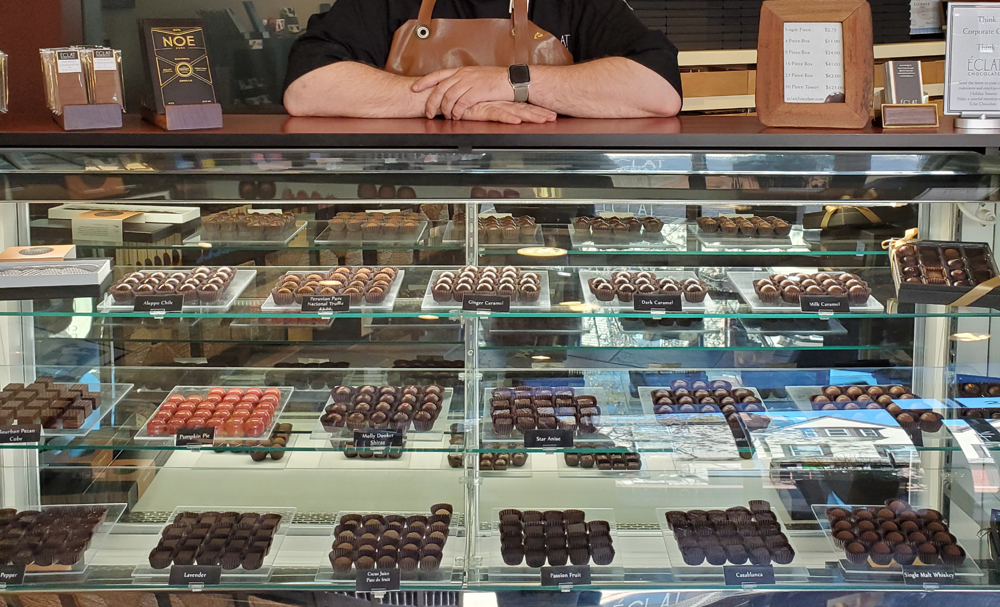 On a sunny Monday afternoon we grabbed our chocolate appetites and headed out the Pennsylvania Turnpike to West Chester. Our mission? To visit the artisanal Éclat Chocolate Company, and its founder, Christopher Curtin (to us he is THE Willy Wonka of Pennsylvania). Éclat claimed West Chester as its home five years ago and now has five full time employees, of which can be seen helping customers in the retail store, ordering supplies, curating chocolates and handling daily operations. I know what you may be thinking: you're wondering why would an Herb company be interested in an artisanal chocolate maker? Well, when you taste and see their unique flavors such as Desert Rose, Coffee & Cardamom, and Borneo N.26 (which incorporates long pepper, lemon, mace and SPICES) you'll appreciate why we invested time to bring these "herbal" chocolate masterpieces to our herb-minded readers like you.
We met Christopher this beautiful sunny afternoon to pick up our latest shipment of his uniquely delicious chocolate bars, and, unbeknownst to him or not, to also pick his brain a bit about the chocolate making process.
Christopher originally went to culinary school at the University of Wisconsin-Madison but ended up in Germany in 1993 as a pastry meister. It was here that he developed his love of chocolate and wanted to bring that appreciation back to the States. And boy are we glad he did.
His company is most widely known for the "Good & Evil" Bar.  This was a bar that was launched in 2012 after a trip to Peru with Anthony Bourdain and Eric Ripert on CNN's "Parts Unknown."  Quite an accomplishment for a company only 7 years young at the time, if you ask us.
"We source the finest chocolate from places such as Peru, who has the most diverse varieties," Curtin stated.  Every year, Éclat receives a special delivery from an exclusive cacao grower in Peru, one of the finest in the world, which is then used to make a variety of his rich chocolate delights.
On this day, we eyed up beautiful truffles in the display case, gawked at the alluring packaging of the bars, and sampled some of the creamiest, richest chocolate one would ever desire. You mean to tell me there are ways to incorporate herbs into chocolate and still make it taste decadent? Oh yes, yes there is! Who knew long pepper, mace or even cardamom would pair well with dark or milk chocolate? Clearly Curtin knew, because they were incredible!
As a purveyor of the finest herbs, we found the chocolate bars at Éclat to be synonymous with our company. We are proud to sell varieties such as Desert Rose Chocolate, which showcases flavors of halva, rose and cardamom. The Coffee & Cardamom bar is our personal favorite, which has a rich, dark roasted coffee and pungent, floral cardamom. It truly is a classic flavor pairing right from the Middle East.
In addition to the more classic flavors, Éclat Chocolate offers more striking flavor combinations such as Parallel bars showcasing Green Tea & Roasted Rice, or Coffee & Cardamom.  The Parallel bars have been featured in the New York Times and Bon Appetit magazine for their unique use of dual flavors and chocolates that run parallel to each other within the bar, hence the name.
We hope you enjoy this remarkably delicious chocolate as much as we do, while supporting another small family business and its dream.