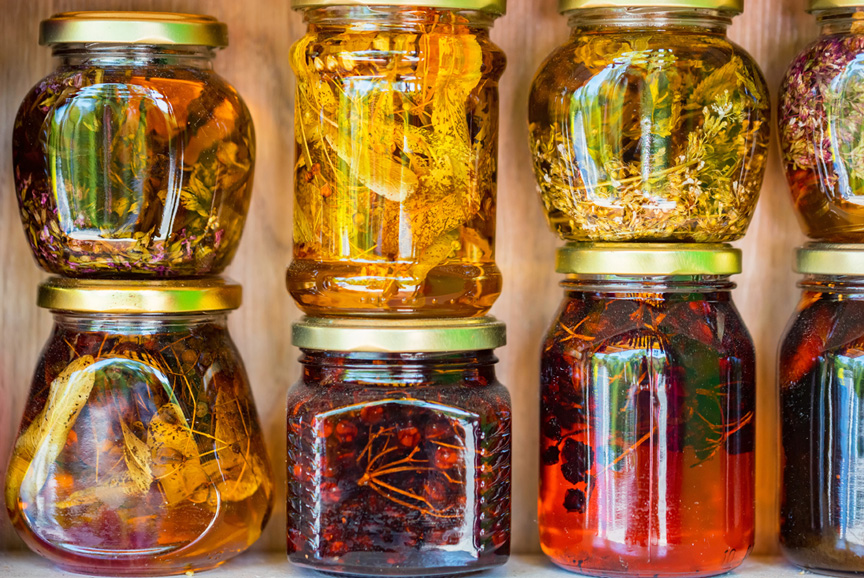 No doubt about it, sweet honey infused with tasty, therapeutic herbs is by far one of the most delicious ways to harness the beneficial properties of this ancient sweetener AND nature's array of healing herbs.
Help from the Hive
The golden "nectar of the gods" is both a legendary food and medicine. The story goes that ancient Greek Olympians ate honey to boost their physical performance and to give themselves an athletic edge. Apitherapy, the medicinal use of honey and other remedies from bees, have been practiced in Egypt, India, and several ancient cultures for centuries. Today, the sweet elixir is a prized, power-packed superfood that contains beneficial enzymes, antioxidants, vitamins, and minerals.
In fact, honey is a time-tested home remedy that:
Restores energy
Boosts stamina
Soothes the throat
Calms digestive distress
Supports bronchial and respiratory health
And these are just the most common internal uses! Honey skincare remedies are as legendary as Cleopatra's honey and milk baths, but that's a blog for another time.
A Sweet Remedy
Herbal honey is a sweet treat you can add to tea, yogurt, toast, or enjoy by the spoonful! It's an easy way to use herbs and is especially great for kids (though honey is not recommended for children under 2 years of age).
You can use one herb or more for delectable flavor combinations. Some of the most popular and tastiest herbs to use are:
Homemade Herbal Honey
Over the years, our customers have shared their favorite ways to make this herbal remedy. We've found this basic recipe that is easy to follow and makes a small batch:
1-2 tablespoons dried herb
1 cup of honey
Sterile glass jar
Directions
Place the dried herb in a jar and add enough honey to cover it completely; if using raw honey, you have to liquefy first by placing the jar in a bowl of hot water. Stir to coat herb thoroughly, then top off the jar with more honey. , then top off the jar with more honey. Cover tightly and store in a cool, dry place and allow the blend to infuse for at least 7-14 days (for a stronger-flavor let sit up to 30 days).
During this time turn the jar over at least once a day to ensure the herb is completely immersed in honey (you can add more honey if necessary). When it reaches your desired taste, strain, and enjoy.
Note: Admittedly, straining a honey blend is a sticky process, but to make it a little easier, I strongly recommend investing in a cone-shaped strainer (it's a thing of beauty!) And as far the sweet residue left in the strainer, why not make a tasty brew?
What type of honey to use? Whatever you prefer really, though using local honey is most recommended. Around here, we love Fruitwood Orchards Honey, a family-owned and operated honey producers just 30 minutes outside of Philadelphia in Monroeville, New Jersey. Plus Pat Ryan, their "honey man" (pictured below) is super knowledgeable and passionate about honey and honeybees. We often have him in our store explaining the importance of bees for our environment, health, and wellbeing.
---
Do you have a recipe you would like to share with our community? How do you use herbal honey?