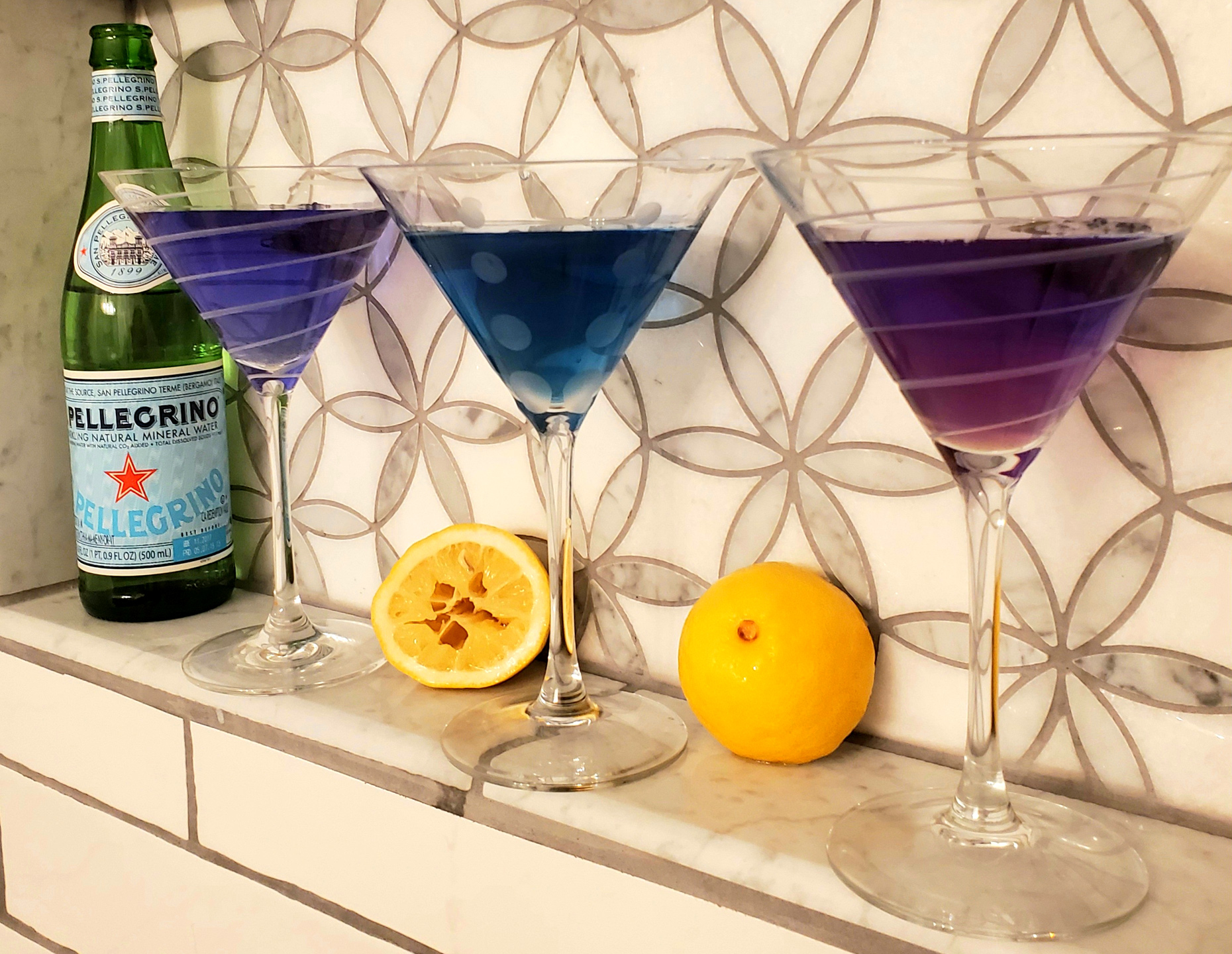 Whether you have a small pot on your porch or a 200-acre farm, there is therapy and self-satisfaction in growing your own herbs. You probably haven't thought much about throwing a handful of herbs into your next stay at home cocktail, but herbs are a wonderful way to accent your Saturday afternoon porch pounder or impress your masked friends #SafetyFirst. Enjoying cocktails, or mocktails (I don't know about you, but I gave them up sometime in March) with herbs only makes sense to us herb lovers! Herbs have been accenting various culinary dishes for centuries, so why not try to use their beauty in drinks as well?
First, We Pick Our Herbs
Any backyard herb pot or garden can be used to make amazing herbal cocktails. Some of my favorite ways to incorporate them into a cocktail are by making simple syrups, muddling them, or sprinkling them on top of a cocktail to accent a specific spirit or liquor. Pairing rosemary with gin may seem odd at first, but let me assure you, there are many herbs that pair well with your favorite spirits, and can actually make a delicious and memorable cocktail. Why not try making an impressive cocktail for your enjoyment at home this summer?
Here is a list of commonly grown herbs and the spirits that they pair well with, the fun part is being creative and experimenting #HerbalLove.
Rosemary has an earthiness flavor to it which pairs well with gin, rum, tequila, and vodka.
Mint emits a sweetness that compliments the flavors of rum, whisky and tequila.
Thyme has an earthy taste to it, with a hint of mint, which pairs beautifully with gin.
Cilantro's citrus-like, lemon tasting flavors, compliment whiskey perfectly.
Basil exhibits a sweet, mint and licorice tone which accompanies bourbon cocktails excellently.
Lavender has a delicate floral note which accompanies the flavor of vodka and rum well.
Sage has pine and citrus notes, and sometimes eucalyptus flavors, which favor bourbon spirits.
Then We Make A Simple Syrup
Simple syrups are a great way to add a touch of sweetness and flavor to any hot or cold drink. They are especially preferred for cold drinks because the sugar is already dissolved and will easily blend into an iced drink. New to simple syrups? Don't worry, they are super easy to make!
Also referred to as sugar syrup, simple syrups are simply put – just a liquid form of sugar. It's super fun to diffuse an herb, fruit, or flower in the syrup, which can then be used to flavor and sweeten cocktails, lemonade, iced tea, or even iced coffee.
Here's how to do it at home, but if you're in a rush we have some beautiful local organic simple syrups available from Barefoot Botanicals.
Easy Herbal Simple Syrup
1 cup water
1 cup sugar
½ cup herb of your choice (whole leaves or flowers lightly chopped, packed into a measuring cup)
In a small pot stir water and sugar together over low heat until the sugar dissolves. Add washed herbs. Stir gently for a minute and then remove the pot from heat. Let the mixture cool (approximately 30 minutes). Strain and store the unused portion in the refrigerator for up to a week.
Next Step, Muddling
Muddling is the process of gently bruising the leaves of herbs with a muddler. Need a muddler? I prefer a traditional mortar and pestle (I'm partial to the heavy ceramic ones). You want to press straight down from the elbow through the wrist at a 90-degree angle. If you hear the leaves tearing you're over muddling. The goal is to release the freshness and aroma of the leaves, not to smash the life out of them! (#CovidAgression) Press down, release, and rotate and do it about 5 or 6 times. Congrats! You are now a muddling pro and ready to move on to being a mixologist.
And Now We Make Cocktails
Are you still not sure exactly where to start? Included are three quick and easy recipes that can be made with common, fresh, homegrown herbs. Get your cocktail shaker ready and… go!
Lavender Lemon Drop Martini
This can look like a fancy $14 martini if you're looking to treat yourself like you're at an elegant bar for a night out…the only catch is this time you're the bartender AND the customer #SavinMoolah. The sweet floral components of the lavender flowers pair wonderfully with the tart lemon for a memorable sweet- but tart- experience.
1 oz fresh lemon juice
2 oz vodka
fresh Lavender (2 sprigs will work well)
1 tbsp. raw sugar
Ice
Muddle raw sugar and spring of lavender. Stir into vodka and lemon juice. Pour into a cocktail shaker with ice and shake away. Strain and garnish with extra lavender on top. An alternative to using fresh lavender is substituting with a lavender simple syrup.
Local "Any" Fruit Mojito
This is a versatile recipe and that's what makes it so easy and fun! You can use any local fruit- strawberries, blackberries and watermelon work wonderfully here in Pennsylvania, but if you have a different growing season, with more local options, feel free to get creative!
2 oz lime tonic water
2 oz rum
fresh mint (about 8-10 leaves)
1/4 cup of local fruit
2 lime slices
1 tsp Agave Syrup (more or less depending on your taste)
1 cup of Ice
Muddle your mint and add it to a cocktail shaker filled with a cup of ice, lime tonic water, rum, lime slices, agave, and your favorite seasonal local fruit. Shake your way around the deck, patio, porch, or kitchen while your favorite song is playing. Once you're done shaking it (the cocktail shaker that is), pour the contents into your favorite drinking vessel and enjoy!
If you still have the willpower to drink only mocktails, this is the one for you! It combines the spicy herb ginger with the earthy flavor of rosemary to make a wonderful spritzer for any time or day of the week. If you're feeling fancy, garnish it with some candied ginger for some extra flare.
Rosemary Ginger Beer Spritzer
4 oz ginger beer
2 oz sparkling water
1/2 lemon juiced
2 Tbsp. local Honey
4 sprigs fresh Rosemary
1 cup of Ice
Squeeze lemon (minus the seeds) into a cocktail shaker, stir in the honey. Muddle 2 sprigs of rosemary and add them to the cocktail shaker. Add ginger beer, sparkling water, and ice to the shaker and shake vigorously for a minute. Strain, or leave the ice, if it's a hot day. Garnish with the extra rosemary and if you're feeling fancy some delicious candied ginger.
---
Although this summer may be slightly different with social distancing, restaurant closures and zilch outdoor entertainment, it doesn't have to feel that way. Throw together a cold herbal concoction, grab your favorite stay at home bud and some music and head outside to play some corn hole. Here's to enjoying the warmer weather and the outside world, because who knows what's coming next in 2020…Cheers!