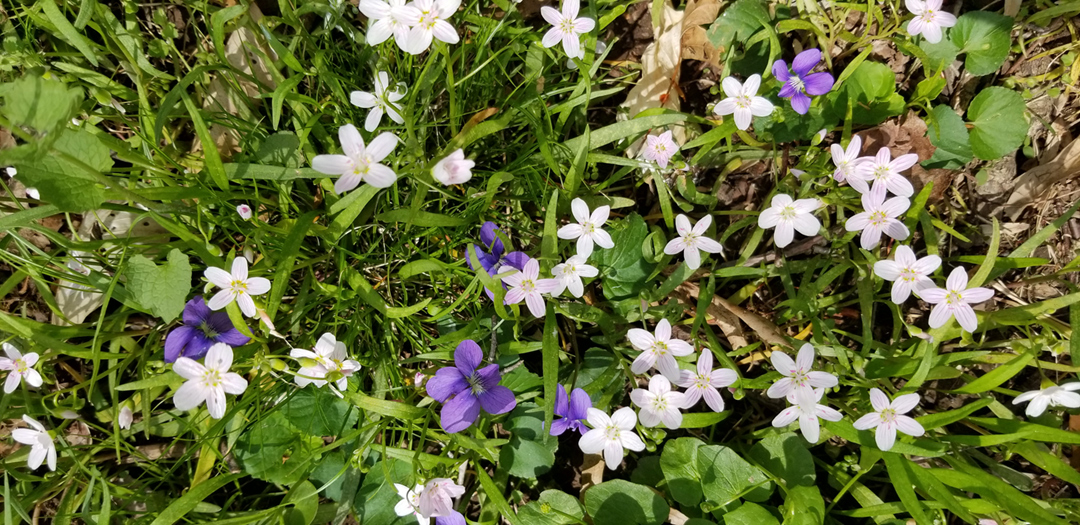 The COVID-19 pandemic has had us all doing things a little differently than we once did (#ThanksCovid19). You may find yourself working from home, homeschooling, or even furloughed and just plain old longing to get out of the house.
No matter what your situation may be, no doubt, you have found yourself with more free time to reconnect with your immediate family and, hopefully, with nature. Here in Pennsylvania, our state parks were closed for some time. In fact, the playgrounds still have yellow caution tape around them- a clear sign we are not out of the woods yet when dealing with this pandemic. Not being out of the woods, however, inspired me to go dive INTO the woods. With my two kiddos in tow, into the woods we went, exploring.
Spring is a wonderful time of the year to appreciate the rebirth of the natural world around us. Even when things at this time may seem grey in the world around us, the colors of Mother Nature understand no boundaries. So, off we went, to explore the green trails around us and to find some light, at this otherwise darkened time.
Discovering Dandelion – The Weedy Wonder
Although your neighbors may have a lawn service designed to come out and kill these pesky "weeds," one must first appreciate their holistic properties. Only then will they will have a different feeling on how and why Dandelions are so crucial to our ecosystem.
Dandelions (Taraxacum officinale) are one of the first Spring foods for our beloved bees. They play a vital role in the health of bee and butterfly larvae in April and May. Dandelions provide both pollen and nectar; therefore, the flowers are an essential food source for pollinators — especially bees. Dandelions are a rich source of vitamins A, B complex, and C, as well as minerals such as iron, potassium, and zinc.
The leaves are great as a lettuce substitute in salads or on sandwiches, and they are regarded as nature's ideal diuretic, as they help to relieve temporary water gain (I need a handful on my next salad to relieve this bloat I'm feelin' from this #Quarantine15).
Roasted Dandelion root is used in herbal coffee substitutes because it has a robust, nutty flavor similar to coffee beans – minus the caffeine. In traditional Chinese medicine, Dandelion root is known to help flush the body of toxins, encourage proper digestion, and promote blemish-free skin. I even have a close friend who makes wine from the flowers! (It's 5 O'clock somewhere, right?) Indeed dandelions are a weedy wonder worth exploring.
Violets – Flower Power for Vibrant Health
Trails in Pennsylvania are lined with Common Violets, this deep purple flower starts to emerge in early March and April. Wandering off the trail leads to discovering even more of these violets and their mesmerizing color (And I am a wanderer, who needs paths in life?)
The Common Violet (Viola odorata) is actually native to Europe and Asia, but since it was introduced to North America, it has thrived as a beautiful flowering perennial. The plant, including its flowers and leaves, is well known in Ayurvedic medicine for calming coughs and headaches.
Both the leaves and blossoms are edible and can be eaten raw or cooked; they are very high in vitamin C. The dried leaves can be used to make a tea, while the fresh leaves brighten up a salad. Violet leaves and flowers are also well known for their antioxidant and anti-inflammatory properties, and as such, have been used both internally or externally to soothe joint discomfort.
The flowers are highly regarded among herbalists for their demulcent and emollient properties, and when mixed with honey, they can make a delicious, yet effective, cough syrup (one of which my kiddos love, but it's only for those over 12 months old.) Next time you're walking down a park trail, deviate from the planned path…you might just find a wonderful sea of purple violets waiting for you!
Nettle – Takes the Sting Out Of Everyday Discomforts
Okay, I'll admit it. I have pulled this "weed" out of my garden, and seriously, I wanted to light it on fire! It's not my favorite. It's not pretty. It keeps coming back, and it hurts! …but it actually IS a practical, useful and efficient herb. Here's why.
Nettle leaf (Urtica dioica) is an herbalist dream to help soothe distressing seasonal symptoms. (Did you stockpile tissues?) You can easily dry the leaves and make a therapeutic tea to help support upper respiratory health – especially in the Spring when you can SEE the yellow pollen on your car in the morning.
Additionally, Nettle leaves may benefit those experiencing urinary tract imbalance, as it helps to flush and maintain urinary tract health.
One additional reason not to just pull and destroy this herb – Nettle contains natural compounds that help maintain healthy uric acid levels, which can be helpful for those dealing with joint stiffness and discomfort.
So, next time you find your legs itching from the Stinging Nettle on a walk in the woods, or when you have the urge to pluck it from your flower beds- think twice! Your health really may benefit from this prickly green herb.
*Caution: Consult a healthcare practitioner before using any of these herbs if you are pregnant, nursing, taking medication or have a medical condition.
---
These are just three of the MANY different herbs, spices, and edible wonders of the forest that I was able to stumble upon. Comment below on what you have found on your long walks in the woods this Spring – I'd love to hear about them. (I'm still wishing I found some morrells!)