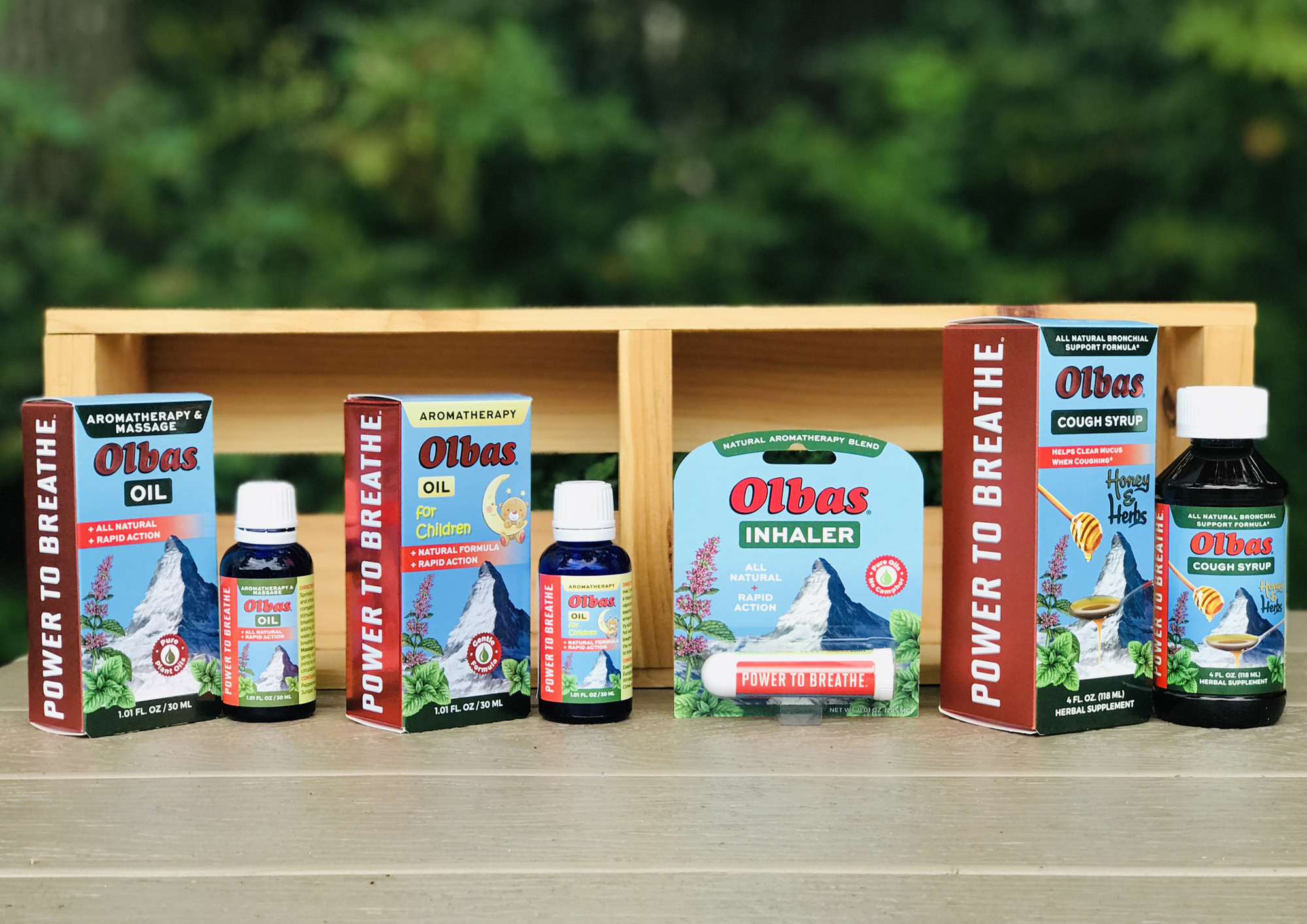 We here at Penn Herb are surrounded by herbs, essential oils, supplements, balms, and every sort of natural remedy so that we can help everyone feel better. And sometimes there's one brand on our shelves that we love recommending over and over. And this time it's a lineup from Olbas Remedies. We absolutely LOVE Olbas! And so do our long time customers. My own cabinet, work desk, backpack, and glove compartment are stocked constantly! Once you learn how to pronounce it (hint: it's Ol – bes) and discover the powerful, soothing effect when those seasonal discomforts come along, you'll be hooked, too.
We keep hearing how generation after generation continue to pass on the Marvelous Swiss secret that Olbas oil is. So if you haven't heard of it, here's the essential details: For the past 100 years, the Olbas formula has been an expertly crafted blend of pure essential oils first originating in Basel, Switzerland. The peculiar name is actually a contraction for Oleum Basileum, "Oil from Basel." Now known worldwide as simply Olbas Oil, the benefits of this blend forms the basis for a total of 9 different Olbas remedies.
What's the Olbas Benefit?
Essential oils have been used in aromatherapy for hundreds of years. Olbas takes six beneficial ones (Peppermint, Eucalyptus, Cajeput, Juniper Berry, Wintergreen, & Clove) and blends them just right so we can inhale or massage on to our bodies based on what ails us. Even the ancient Egyptians and Chinese used these different essential oils for aromatherapy!
Starting with their flagship product, Olbas Oil, the powerful vapors when breathed in can help our nasal passages during this time of the year. The soothing sensation really gets me to feel I can breathe better. So we've got diffusers in our offices running Olbas Oil 5 days a week!
But then take that Oil, formulate other ways of applying it, and Olbas has come up with unique ways to maintain wellness: Inhalers, Pastilles, Salve, Lozenges, Bath Liquid, and Cough Syrup.
Our Personal Picks
INHALER – Helps us take Olbas Oil anywhere by giving us a pocket sized aromatherapy inhaler, loaded with the original oil blend and it's powerful vapors. One deep inhale into each nostril and we're good to go fresh.
SALVE – Two benefits in one when you put Olbas Oil in an analgesic cream. Rub this on and feel penetrating relief for minor muscle aches and joint pain. But the vapor action makes it an amazing remedy to quiet down coughs, too.
TEA – It's always Olbas Tea time in the office when it's this instant. They took 20 soothing herbs and enhanced them with pure essential oils, and this gives us a warm, soothing feeling. Like a hug from a nice polar bear wearing a fleece sweater.
Oil for Children – Their newest product has parents raving. Olbas Oil for Children is especially formulated for little ones and those with sensitive noses. We note it's milder than the original oil and with an orange scent.
As I write this with Winter on the horizon, consider making Olbas Oil a part of your family just like we have. Between feeling like you're doing the best thing for your wellness and making your space smell delightfully invigorating, we're sure you'll love it.