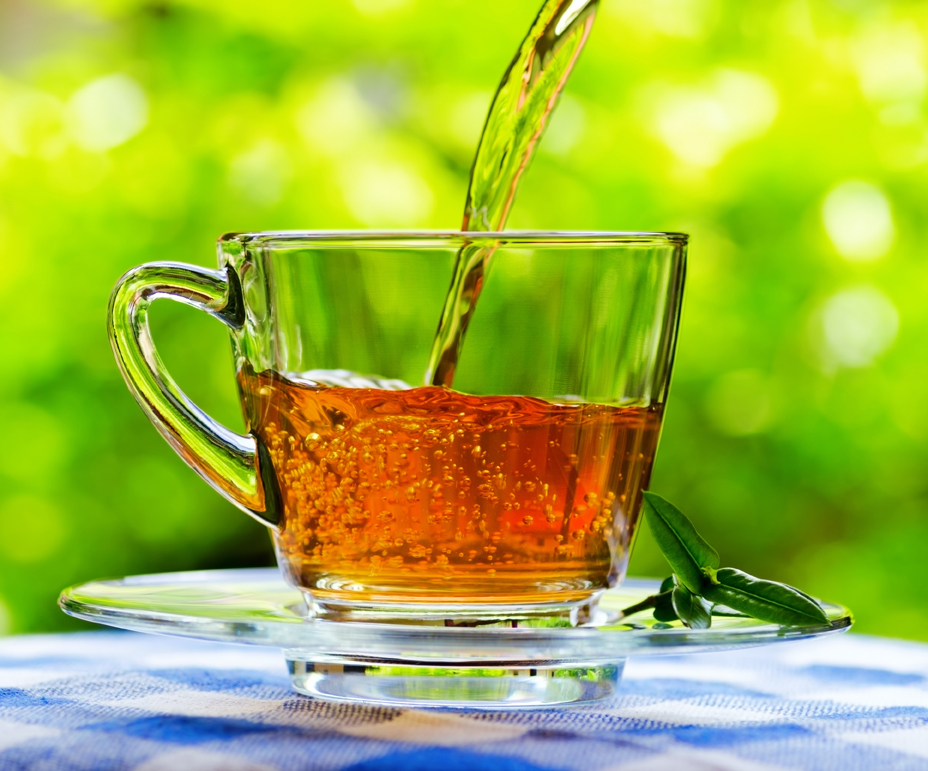 To some, tea is more than just a beverage. As far back as the sixth century, tea was considered a remedy for headaches, poor digestion, and intestinal discomfort. In the past decade, sales of tea in the United States have doubled as Americans seeking healthier lifestyles have turned to the beverage for its health benefits.
Black Tea or Green Tea?
Black and green teas come from the same plant but are processed differently and contain different antioxidants. Consider drinking both (perhaps alternating days) to get the greatest protection. Think of it this way: How about a superfood that's cheap, has no calories, is associated with relaxation and pleasure, tastes good, and is available everywhere, from the finest restaurants to the local diner? How about a food that supports blood pressure wellness, bone health, and heart health, plays a role in preventing sunlight damage to the skin, and contributes to your daily fluid needs? Wow! This is why I often use and recommend green, black, or white tea instead of water or juice as your liquid in smoothies and other drinks.
4 Reasons To Drink Tea
Tea contains more than 4,000 chemical compounds. The ones that have drawn the most attention and have proven benefits include the phytonutrient polyphenols called flavonoids—the same types that are found in berries. The most potent polyphenol in tea is a substance known as epigallocatechin gallate, or EGCG, which belongs to a group of flavonoid phytochemicals known as catechins.
Research has shown that catechins are more effective antioxidants than even the powerful vitamins C and E.
Tea may also support bone health as you age. According to a study published in 2012 in Archives of Internal Medicine, people who drank 2 or more cups of tea—green, black, or white (all of which come from the same plant)—daily for 6 to 10 years had higher bone density than those who didn't drink tea regularly.
I recommend having a cup of green or black tea before you exercise in the morning. The flavonoids begin to appear in your blood within about 30 minutes, giving you an antioxidant boost and thus preparing your body to handle the free radicals generated by exercise. Needless to say, I have adopted this practice into my health program.
I also use black and green tea leaves to soothe minor cuts and sunburn, refresh puffy eyes, and soak tired feet. Dip a tea bag in boiling water, squeeze out the extra moisture, and let it cool to a comfortable temperature. Then apply the bag as a compress to the affected area.
Keep a couple of your favorite tea bags with you so you can take advantage of a delicious drink or its healing properties anywhere, anytime. If you prefer, you can get the benefits of tea sans caffeine; just look for decaffeinated brands.
A Blend of 20 Soothing Herbs in an Instant Tea from Switzerland
There's one tea that's been around for decades, is available in 20 countries, and is my most favorite tea that I take with me wherever I go—even when I travel. Called Olbas Instant Wellness Tea and carefully blended in Switzerland, it's a delicious blend of 20 soothing herbs enhanced with pure essential oils that have been used in healing cultures throughout the centuries. This tea targets the lungs and the bronchial passageways and gives you the power to breathe. It's especially beneficial for relief from chills and when suffering from seasonal discomforts. In my private practice, I also recommend it to calm the stomach and help you relax, especially when made into hot tea.
With a delicious peppermint flavor and aroma, Olbas Instant Wellness Tea has no tea bags, so there's no straining and no mess. The herbal granules dissolve instantly in hot water. Delicious hot or iced, you simply fill a cup or mug ¾ way up with hot water and stir in a teaspoon of the Olbas Instant Wellness Tea. If it's too weak, add more tea; if it is too strong, add more water. It provides a delightfully warm feeling and a soothing aroma to enjoy any time of the day or night. Some of the soothing herbs found in this tea include peppermint, chamomile, fennel, thyme, licorice root, star anise, blackberry leaves, sage, eucalyptus leaves, mullein flowers, and many more. One container makes up to 60 cups.
---
Susan Smith Jones, Ph.D.: Author of over 33 books, including Invest in Yourself with Exercise, Be the Change, Kitchen Gardening, Choose to Thrive, Wired for High-Level Wellness, A Hug in A Mug: Using Herbal Teas, Culinary Spices & Fresh Juices as Medicine and UPLIFTED: 12 Minutes to More Joy, Faith, Peace, Kindness & Vitality. Visit: SusanSmithJones.com