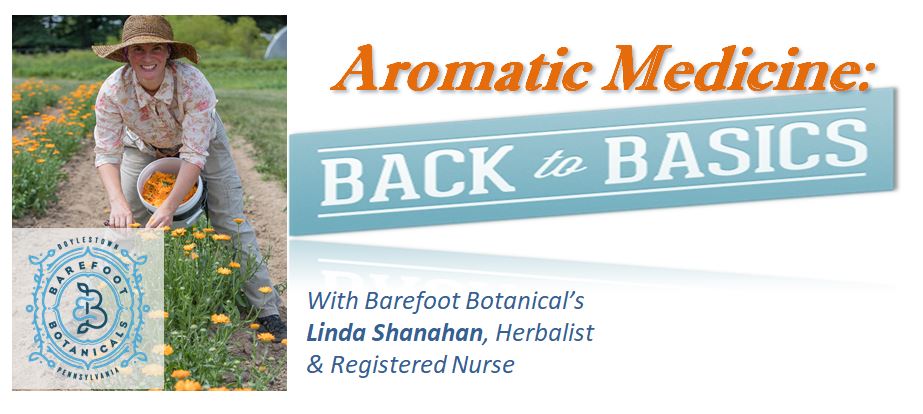 Join Penn Herb Company and Barefoot Botanicals for our next Consumer Education Workshop: Aromatic Medicine – Back to Basics. Event is free and includes a special coupon for Barefoot Botanical products.
People have appreciated the value of aromatic plants for thousands of years and used them for perfume, enhancement of living conditions, medicine and preservation of foods. How do people capture aroma from plants? What are some of the medicinal effects aromatic plants may have on our bodies? Do we need to use them in the form of essential oils or can tea or tincture work just as well? Linda Shanahan, herbalist and Registered Nurse will answer these questions and discuss ways that she harnesses the power of aromatic medicine on her organic farm in Doylestown, PA.
Linda is an herbalist with a foundation of knowledge that sprouted in the forests of Oregon in 1999, learning about forest ecology and the medicine that it can offer. In 2008, after moving east, studying nursing, working in critical care, feeling lost and in need of community, Linda and her husband Eric started farming organically in Doylestown, PA, focused on certified organic medicinal herbs. Linda believes to achieve health, we need to find ways to re-establish our broken connections with our wild and beautiful planet, starting with what grows beneath our feet.
Saturday July 6, 2019 , 1:00 – 2:00 PM
Penn Herb Co Flagship Store
601 N 2nd Street
Philadelphia, PA 19123
Sign-up in store or RSVP by emailing worshops@pennherb.com