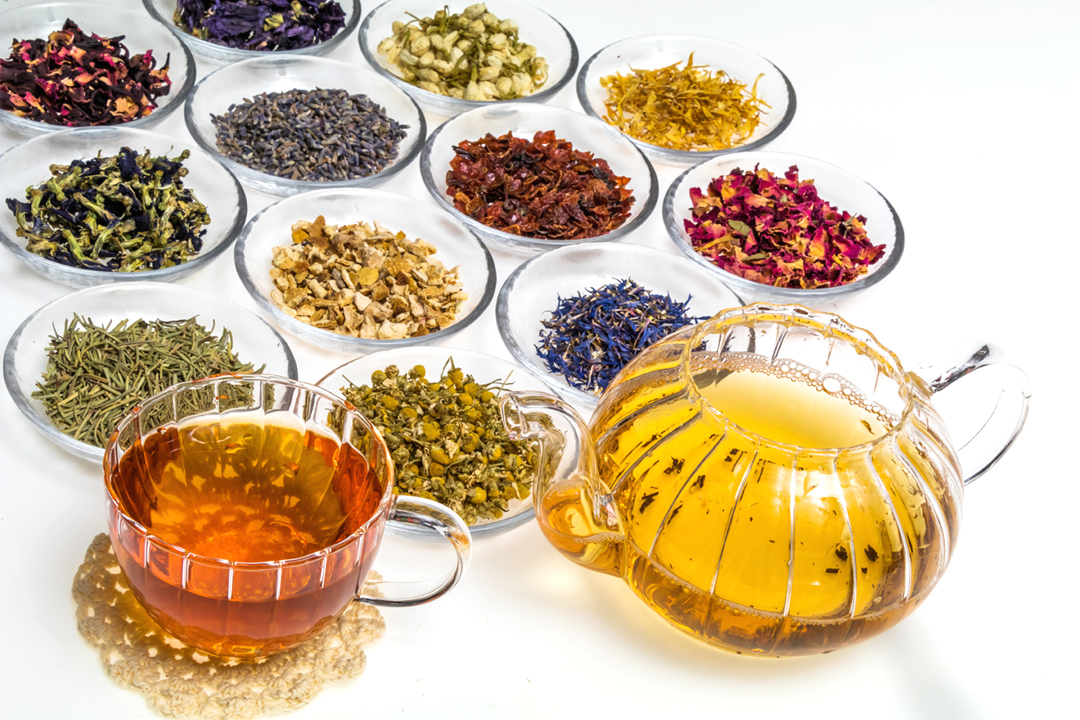 "But indeed I would rather have nothing but tea."

Jane Austen
Truly the sentiments of tea lovers everywhere… Whether it's a cup of energizing Black tea, high antioxidant Green tea or caffeine-free Rooibos tea, the fact is nothing soothes the soul and comforts the spirits quite like a cup of hot tea. Just the simple ritual of preparing a steaming mug of your favorite tea is enough to help smooth out the rough edges of a busy day.
Besides, drinking tea not only makes you feel good it's good for you too. Consider:
Naturally sweet teas such as Cinnamon and Licorice offer a healthy break from sugary drinks.
If you're on a diet, a metabolism-boosting cup of Green Tea is a smart, no-calorie, carb-free choice.
Running on empty by 3 pm? A refreshing Peppermint brew is a quick fix that won't leave you lagging later AND will help soothe the nausea and digestive discomforts from your on-the-go lunch.
How to Craft Tasty Tea Blends
A hot infusion is one of the best ways to unlock the beneficial compounds of leaves, flowers, and berries.
General Directions: Pour 1 cup of boiling water over ½ to 1 teaspoonful of loose dried herb. Allow to steep 4-7 minutes, then strain. If desired, add honey or sweetener to taste. Sit back, sip, and enjoy.
Another super-easy way to make herbal tea is pictured below – add the loose herb to a french press; the press is a built-in strainer. Voila!
Herbalists Hint: The amount of loose herb can vary between ½ to 1 ½ teaspoon and the steep time can be up to 10 minutes depending on the herb and herbal blend. Increasing the steep time of delicate flowers such as Chamomile can actually make it bitter, so herbalists generally agree on 10 minutes as the max time.
---
We've rounded up some of our favorites as well as some of our customer's popular choices:
Blue Butterfly Flowers …Sip on this naturally brilliant blue tea! Blue Butterfly has what's described as an earthy taste, so if you're not a fan of that flavor, blend it with tasty teas such as Lemongrass and Lavender. They not only improve the taste but create a vibrant spectrum of colors ranging from pastel blue to deep purple to chartreuse!
Chamomile…Soothe your stomach and your nerves with the fragrant floral tea. Great for the kiddos too; some parents add cooled Chamomile tea to apple juice for a calming bedtime drink.
Hibiscus…The tart, fruity ruby red tea is the basis of the popular "zinger" blends. Hibiscus supports blood pressure wellness and because of its natural vitamin C content, it makes a tasty "immunity tea" the whole family will love! (Ms. B in the Olbas department is never without Hibiscus; it's a part of her blood pressure wellness program.)
Lemon Balm...The mild lemonade-like flavor is an uplifting infusion for dreary winter days. Plus it soothes frazzled nerves and supports emotional well-being. If you're having a particularly stressful day, add a ½ teaspoon of Chamomile for a truly relaxing blend. (Lemon Balm is a personal favorite of Linda, one of our customer service representatives. She uses it every night as a gentle sleep aid.)
Rooibos…The South African red bush tea is naturally low in tannins and totally caffeine-free, so it serves as a delightful alternative to Black and Green teas. Rooibos can be enjoyed with honey and lemon, and unlike most herb teas, tastes great with milk or cream. For a sweet, indulgent twist, add dried Vanilla beans to the storage container…Mmmm! (This became my personal favorite after a trip to South Africa and experiencing it in just about everything, hot, iced and sweet treats!)
Everything's Coming Up Roses
All parts of the Rose plant is enjoyed in herbalism:
Rose Hips…The fruit of the Rose after the flower has bloomed and the petals have fallen. They are packed with vitamin C, antioxidant-rich bioflavonoids, calcium, and more! The delicate floral aroma and tangy, fruity taste make a delightful tea the entire family can enjoy.
Roses…The fragrant petals produce a delicate, subtle floral flavor. Create a custom blend with Lavender and Chamomile to help promote relaxation and soothe head discomforts.
How to Make Herbal Lattes
Some days you just crave the comfort of a hot, creamy drink that soothes, tastes great and is actually good for you. This is where herbal lattes come in. These simple (often 2-ingredient) blends with a little sweetener is all you need for a cozy tea time break. Grassy-flavored and floral herbs are favorites with tea aficionados, though Turmeric is becoming the new favorite. Some of the most popular herb teas to use are:
Basic Latte Directions:
Steep 1 ½ – 2 teaspoons dried cut herb in ½ cup water for 7-10 minutes (depending on how strong you like your lattes). Strain when done.
At the same time heat – do not boil – ½ cup milk of your choice; add honey or sweetener and whisk until it becomes frothy (some nut milks may not get as frothy).
Add steamed milk to tea brew and enjoy!
Feel free to add a dash of pure Vanilla extract or a sprinkle of Cinnamon powder.
Beet Root Latte
Beet Root is a treasure chest of beneficial nutrients including fiber, folic acid, potassium, vitamin C, and protective antioxidants. No wonder it's popularly used by athletes to boost performance and endurance! If you're looking for a healthy way to power through your day, try this creamy Beet Latte!
1 cup plant-based milk
1 cup water
2 tablespoon beet powder
½ teaspoon cinnamon powder
½ teaspoon ginger powder
1 teaspoon vanilla extract
1 tablespoon coconut sugar
Directions: Warm the milk and water over medium heat, then briskly whisk in the other ingredients. Transfer to a big pretty mug and enjoy!
Chill Out with Caffeine-Free Chai
Chai is a traditional Ayurvedic blend of black tea with aromatic spices that you simmer with milk. But if you are craving a creamy, spiced bedtime drink, try this caffeine-free, dairy-free concoction:
½ teaspoon whole cardamom pods
½ teaspoon whole cloves
¼ teaspoon black peppercorns
½ teaspoon fresh chopped ginger
1 tablespoon honey
10 oz plant-based milk
Directions: Place almond milk, cinnamon stick, and ginger in a pot on low heat on the stove. Use mortar and pestle to crush cardamom, cloves, and peppercorns, then add to the pot. Bring to a simmer and turn off the stove. Let sit for 5-7 minutes. Strain, add honey, enjoy!
Making Moon Milks
This latest trend in your Instagram feed is actually a centuries-old Ayurvedic practice of drinking warm milk mixed with herbs such as Ashwagandha and Turmeric along with aromatic spices. Moon milks help to soothe stress and promote restful sleep (the reason for its dreamy name).
There are so many variations of this creamy bedtime beverage from Blue Moon Milk (made with Blue Butterfly flowers), to Pink Moon Milk (with Beet or Pomegranate powder), even Unicorn Moon Milk (a blend of Lavender and Blueberries). The recipe is as varied as the natural ingredients you want to add, but here's a super simple one we like (again, feel free to experiment with your favorite herbs, spices, and nutritional ingredients:
1 cup milk of your choice
¼ – ½ teaspoon Ashwagandha powder
Pinch of ground Nutmeg
Pinch of ground Cardamom
Pinch of ground Cinnamon
1 teaspoon honey or sweetener of your choice
Directions: Simmer milk in a saucepan over medium to low heat. When milk is almost boiling, whisk in Ashwagandha powder until dissolved, then add spices. Remove from heat and add sweetener.
Note: Some of our customers prefer blending the ingredients together for a creamier, less gritty drink.
---
So what's your drink of choice? Golden Milk? A robust roasted Dandelion-Chicory blend? A custom tea recipe you've discovered? Please share. If you want more ideas for tasty teas and warming herbal drinks, the books Healing Herbal Tea by Sarah Farr and Herbal Tea Gardens by Marietta Marshall Marcin are great resources.