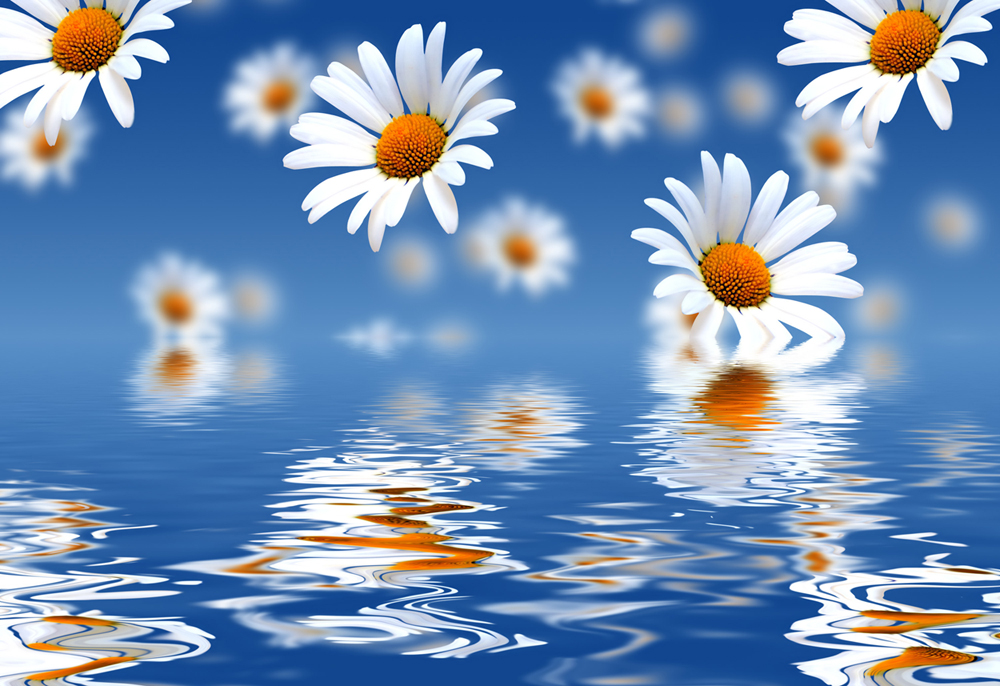 Without a doubt, summertime fun includes cooling off in a pool or by a beach with a cup of something cold, preferably in a shady spot. Yup, it's all about beating the heat. In our Herbal Iced Tea Guide, we shared some really cool iced tea recipes, but did you know some herbs are specifically classified as botanicals that help cool the body?
Cool Herbs
Herbs classified as "refrigerants" and "sudorifics" (diaphoretics) produce coolness in the body by specific therapeutic actions. They are often used during certain heat-induced conditions to quickly cool and relieve. A refrigerant, as the name implies, cools the body's tissues, while sudorifics stimulate perspiration, which activates the body's natural cooling process. Some popular cooling herbs include Chamomile, Lemon Balm, Lavender, Lemongrass, Rose Hips, Spearmint, Peppermint, and Rose Petals. How do you use them?
Chill Out with Chamomile
The calming flower soothes the senses and is the ideal summertime companion.
A cooling Chamomile bath after a too-long day in the sun is just the thing for hot, irritated skin.
Need a quick fix? Refrigerate Chamomile tea in a spritzer bottle and mist sweaty, sticky skin for instant cooling relief.
Chamomile's mild, delicate flavor makes a delightful iced tea especially paired with Peppermint or Lemon Balm. For the kiddos, a little apple juice enhances the flavor, and to really wow the younger set, add brilliant red hibiscus tea ice cubes (see recipe below).

Try this relaxing blend at the end of a long summer's day (Serves 4)
4 tablespoons dried chamomile flowers
2 tablespoons honey
4 teaspoons fresh lemon juice
Directions
Bring 4 cups of cold water to a boil; pour over Chamomile, cover, and let steep for 3-5 minutes (longer steep times could result in a bitter brew). Strain. Stir in honey while hot so it can dissolve and allow it to cool in the refrigerator. Serve over ice and garnish with fresh lemon slices.
Hibiscus – Heat Helper
Could its use by the ancient Pharaohs in the Egyptian desert or the popularity of Sorrel or Agua de Jamaica in the Caribbean and South America be a clue to Hibiscus' superior cooling powers? We definitely think so. The tasty tart flowers are best enjoyed in the sweltering heat as a deliciously refreshing cold drink. Here's one of our favorite in-house recipes:
Iced Wonderland Cooler
(Serves 4)
Directions
Bring water to a boil. Put all your dried herbs in a cloth tea bag and place in hot water. Steep for 5-7 minutes or until desired strength. Strain and add sweetener. Let the tea cool. Serve over ice. Garnish with thin slices of orange or lemon. 
Hint: Each herb has a distinctive flavor, so feel free to adjust the amounts to suit your taste. Consider making a larger batch and freezing the herbs as ice cubes to use in other iced teas, adding both color and amazing taste sensations.
Meet The Mints – The Cool Family
Perhaps no other class of herbs is synonymous with a refreshing feeling more than mint! Whether it's zesty Peppermint or the sweeter, milder Spearmint, the mint family is a truly cool family. Just like Chamomile, the mints help you beat the heat:
As a refreshing bath, after a morning on the beach and right before dinner, quickly revitalize the senses with a cooling Peppermint bath.
A little prep time before you head out will be a big help when you get back inside feeling icky, sticky, and just hot.

Directions
Add 64 oz or 1/2 gallon boiling water to 8 oz dried peppermint and or spearmint leaves and allow it steep for at least 30 minutes (the longer, the better). Strain and let it cool. Then when you're ready for your bath, just pour in the cooled tea while the water is running. Then sit back and enjoy.
Cooling facial mist…If you didn't use all the cooled tea for your bath and you have some leftovers, pour it into a spritz bottle and refrigerate for later. Incidentally, a chilled mint mist does wonders for hot, tired feet.
---
Staying calm, cool, and collected during the hot and humid summer days is as easy as experimenting with your favorite cooling herb. What's yours?
---
*As with any herb or supplement, consult a physician before use if you are pregnant, nursing, taking medication, or have a medical condition.